1 KG Serious Whey Protein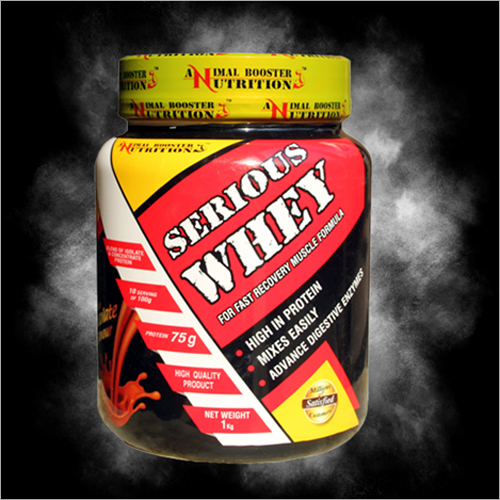 1 KG Serious Whey Protein
Price And Quantity
Product Specifications
24 Months

Build Muscles & Body
Product Description
PRODUCT DETAILS :
1. Serious Whey Protein sports nutrition isolate and concentrate containing Protein Supplement.
2. It is athletics looking to maintain lean muscle and replenish nutrients after workouts to fuel muscle recovery and performance that tasted great and mixes easily.
3. Serious Whey Protein with 75g protein per 100G serving leads to faster muscle gain and recovery making it the best Whey protein Supplement powder.
4. Serious Whey Protein is manufactured using Whey from United States of America ensuring protein quality of international standards.
5. Whey Protein Isolate, the major ingredient also considered the most superior form of protein is the primary source of protein with Whey protein concentrate as the secondary source.
6. Animal Booster Nutrition SERIOUS WHEY PROTEIN is an ultra-premium.
PRODUCT OVERVIEW :
If you exercise every day in the gym for your beautiful muscle gain then the Serious Whey Nutrition is the right supplement for you. It is a high-protein gainer for every bodybuilder, weightlifters, and other gym enthusiasts. It's every 30G serving of this mass provides 450 calories for building muscle. It helps bodybuilders maintain lean muscle mass, replenish nutrients after workouts to fuel muscle recovery. It has a lovely taste and it mixes very easily.
Every single batch of ANIMAL BOOSTER NUTRITION SERIOUS WHEY PROTEIN is tested for both banned substances and protein label claim verification. We go the extra distance to ensure our customers get exactly what they expect. We test all batches for banned substances, as well as protein quality, to verify that we consistently deliver 75g of protein. That's why millions of customers trust.
BENEFITS OF SERIOUS WHEY PROTEIN :
Serious Whey is full of 75G Whey Protein. Its helps Athletes and individuals with more muscle need to maintain their higher muscle mass.

Taking Serious Whey protein is a convenient way to add protein on top of your daily intake.

Bodybuilders used to make various important things, including tendons, organs and skin, as well as hormones, enzymes, neurotransmitters and various molecules.

Whey protein has been shown to be particularly effective at increasing muscle growth when consumed right before, after or during a workout. Muscle protein synthesis is usually maximized in the time period after training.

If you're trying to lose weight, a whey protein supplement can help you both lose weight and hold on to your muscle.
PRODUCTS DIRECTION TO USE :
Every scoop of ANIMAL BOOSTER NUTRITION SERIOUS WHEY PROTEIN is packed with 75g of whey protein concentrate and isolate that digests quickly to help satisfy your daily protein and carbohydrate needs. In addition, ANIMAL BOOSTER NUTRITION SERIOUS Whey Protein is free of artificial dyes, fillers, gluten, other undesirable ingredients. Take any time of day, before or after a workout, to fuel the athlete inside of you with an ultra-premium, quality protein experience.
Contact Us
RZ-770 Street No. 4, Main Sagarpur, New Delhi Delhi India +918037304057
Phone :+918037304057